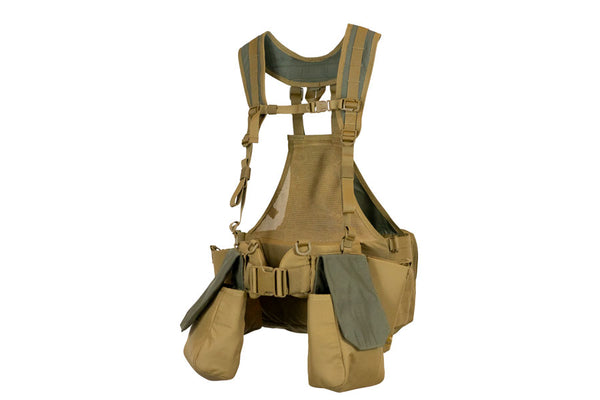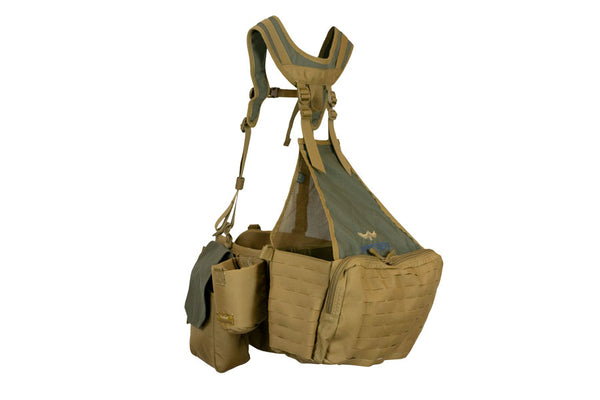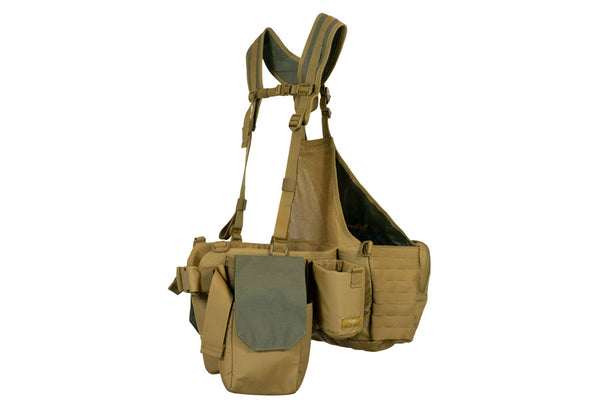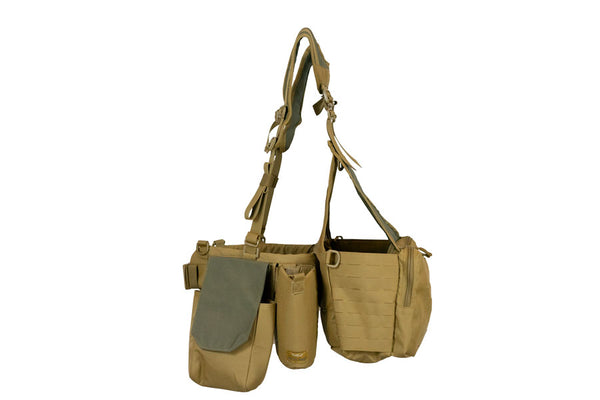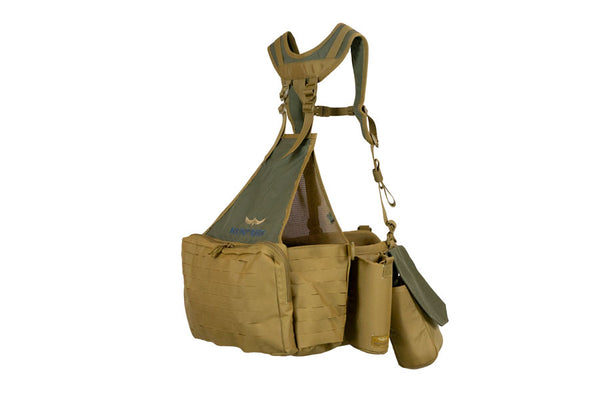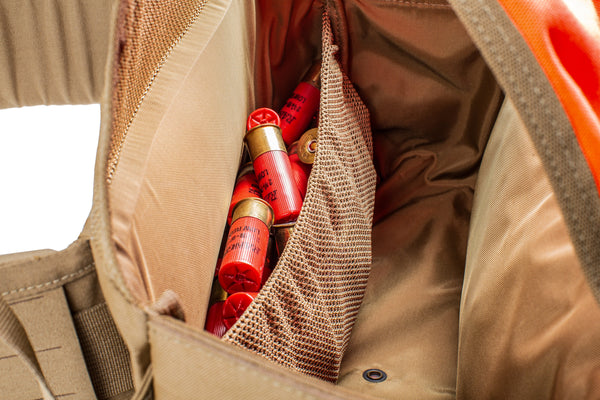 Deviate Drifter 2.0 - Ranger Green
The Drifter is our Deviate Upland Strap vest outfitted with the following:
2 - Deep Velcro Pouches

2 - Water Bottle Holsters

2 - Water Bottles
2 - Lashing Straps
FREE Shipping
Given the amount of permanent onboard storage capacity, deep shell pouches, and the ability to further expand, the Drifter is a solid foundation for any adventure when you want to park the truck and get lost in the uplands. 

Drifter Specs
Deviate Upland Strap Vest

Generously padded belt for balanced load distribution and reduced fatigue w/ integrated DRings for added attachments points

Highly configurable platform for adjustment based on your preferred setup

Suspender or backpack style shoulder harness configurability

Game pouch w/ adequate storage for the majority of upland pursuits (14" wide x 8" tall x 6" deep)

Permanent built in zipper pocket for additional storage needs on rear of game bag

Quick grab mesh pouch against lumbar in game pouch for easy access storage - snacks, gloves, shells/hulls, or even hydration bladder
D-Rings found inside game pouch provide solid hydration bladder attachment points

Drifter Bundle Accessories

2 - Deep Velcro Pouch - (7" H x 3" W x 1.5" D w/ velcro closure)

2 - Water Bottle Holsters

wide option - (12" internal circumference / 4" internal diameter / 5" height - ideal for 32oz hockey style squeeze bottles or standard Nalgene bottles)
deep option - (10" internal circumference / 3.25" internal diameter / 7.5" height - ideal for tall 32oz squeeze style sport bottles)
Weight: approximately 3.3 pounds
Color: Ranger Green / Coyote

Belt Closure: Side Release Buckle 

Platform

FirstSpear® 6/12™

Modular Platform Technology attachment system

Backward compatible with standard MOLLE/PALS

Material: 500 denier Cordura 

Designed by the Hunt Redi Crew / Sourced & Handcrafted in the USA by FirstSpear®
Note: pictures reflect how

 

the Drifter vest

 

could be configured, you will be able to customize it according to your unique needs and preferences.
Sizing
Belt Sizes:

Small Belt (30"-33")***

Regular Belt (34"-37")

Large Belt (38"-43")

XL Belt (44"+)

***(Note: Small belts only allow spacing for a single attachment on each side, i.e. one pouch on each side and water bottles attached to the game pouch or some similar combination)

Shoulder Harness Sizing - appropriate shoulder harness fitment ensures pack stability, proper gun mount, and reduced fatigue after a long day in the field. To determine your torso sizing, please take the following measurements.

Find the top of your hip bone (i.e. iliac crest) - stand straight, feel your lower back right at/below the typical waistline for your "hip bones".
Touch your chin to your chest and feel the back of your lower neck for a large protruding bone, this is your C7 vertebrae.
Measure the distance with a soft/fabric tape measure from your hip bone to your C7 vertebrae.
We recommend 20" and under selecting the Regular size and 21"+ going with the Tall size

For additional sizing information, visit our

 

Sizing

 

page.