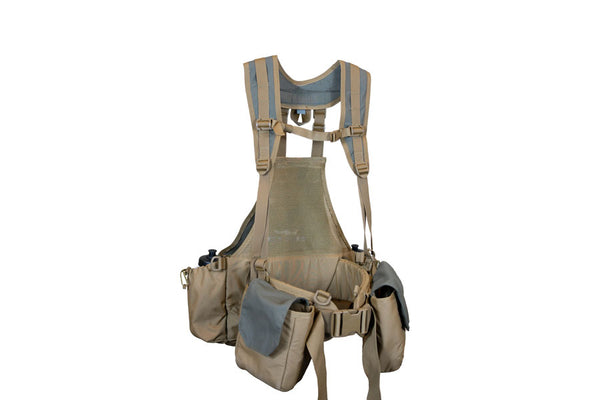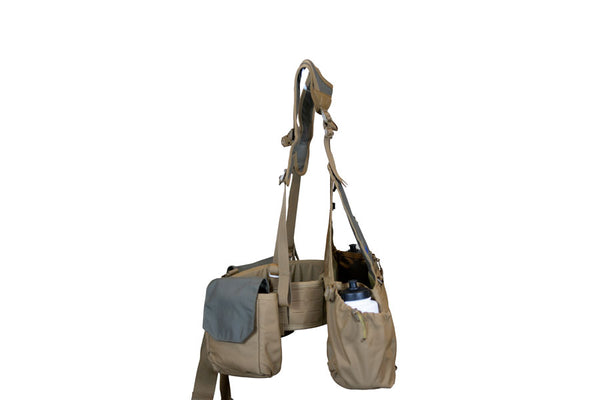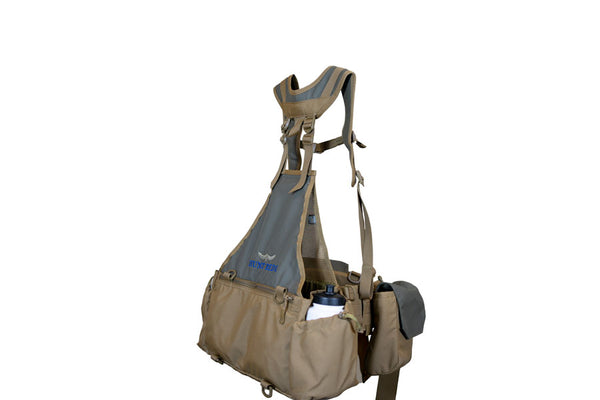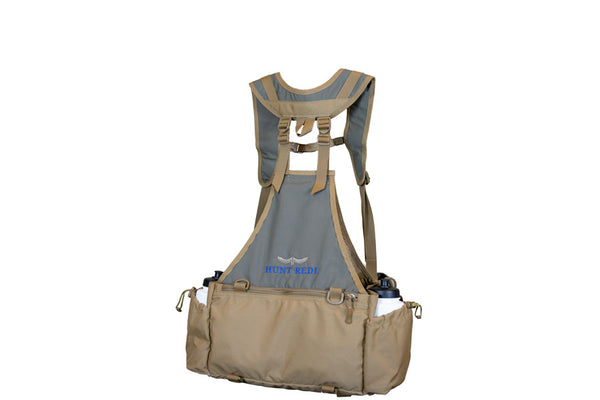 Elevate Upland Drifter - Ranger Green
The Elevate Upland Drifter is an ultralight option outfitted to ensure you've got ample storage for long days in the field. The drifter is outfitted with the following:
Modular Padded Belt w/ Dring connection points
Game bag w/ side bottle

 

holders, zippered storage, and Dring connection points
Harness w/ connection points for accessories
2 - Deep Velcro Pouches
2 - 32oz water bottles (wide style)
2 Lashing Straps
FREE Shipping
Given the amount of additional onboard storage capacity, deep shell pouches, and the ability to further expand, the Drifter is a solid foundation for any adventure when you want to park the truck and get lost in the uplands. 
Drifter Specs
Elevate Upland Strap Vest

Belt:

generous padding and lumbar support

6/12 platform for custom customization of pockets/accessories

Integrated D-Rings providing multiple attachment points for shoulder strap adjustment (suspender or backpack style) and accessory attachment

Game Bag:

Adequate game storage for the majority of upland pursuits 

(14" W x 8" T x 6" D)

Zipper pocket on rear of game bag

Drawstring pouches for water bottles or additional storage

Hydration bladder compatible via D-Rings inside game pouch

Drifter Bundle Accessories

2 - Deep Velcro Pouch - (7" H x 3" W x 1.5" D w/ velcro closure)
Weight: approx 3 lbs (as configured)

Color: 

Ranger Green (225.5 square inches) / Coyote
Platform

FirstSpear® 6/12™

 

Modular Platform Technology attachment system

Backward compatible with standard MOLLE/PALS

Material: 500 denier Cordura 

Designed by the Hunt Redi Crew / Sourced & Handcrafted in the USA by FirstSpear®
Note: pictures reflect how

 

the Drifter could be configured, you will be able to customize it according to your unique needs and preferences.
Sizing
Belt Sizes:

Small Belt (30"-33")***

Regular Belt (34"-37")

Large Belt (38"-43")

XL Belt (44"+)

***(Note: Regular or larger belts provide additional "slots" for further expansion of accessories, attachments, or even permanent water bottle holders.

Shoulder Harness Sizing - appropriate shoulder harness fitment ensures pack stability, proper gun mount, and reduced fatigue after a long day in the field. To determine your torso sizing, please take the following measurements.

Find the top of your hip bone (i.e. iliac crest) - stand straight, feel your lower back right at/below the typical waistline for your "hip bones".
Touch your chin to your chest and feel the back of your lower neck for a large protruding bone, this is your C7 vertebrae.
Measure the distance with a soft/fabric tape measure from your hip bone to your C7 vertebrae.
We recommend 20" and under selecting the Regular size and 21"+ going with the Tall size

For additional sizing information, visit our

 

Sizing

 

page.